Notre Dame football: Offensive position grades vs. Florida State
Grading the Notre Dame football offense against Florida State.
There was always going to be a chance Notre Dame football would be rusty after a long break between the USF win and now. Still, most of that rust seemed to be on the defense on not the offense, who had an excellent night, from the second drive on.
The Irish stuck to their 2020 identity and dominated the game on the ground. They used a lot of multiple tight end sets and powered their way into the Florida State defense. This led to the Seminoles stuffing the box, which led to Ian Book and company opening up the passing attack.
It's hard to complain about 42 points, so here are the offensive position grades:
Ian Book has yet to truly dominate a game, but against Florida State he proved that he can still play really strong football, without truly attacking through the air. Still, you can tell that Book is getting more comfortable with his receivers, and is getting closer to last season's production.
In the passing game, Notre Dame finally started taking some deep shots. Book threw the ball more than 20 yards downfield, through the air, 6 times compared to 1 time in the previous two games. Book would also throw 2 touchdown passes against Florida State, doubling his season total.
Book also used his legs more than in the first two games combined, and to great affect. He avoided pressure, without his feet going crazy under him. He was able to scramble for yardage in the two minute drill, pushing the sticks. In total, Book ran 9 times for 58 yards and a touchdown.
Through the air, Ian Book's final stat line was 16/25, for 201 yards, and 2 touchdowns.
Taking out Ian Book's scrambling and designed runs, Notre Dame rushed for 282 on the ground. It was an absolutely dominant performance from the running backs on the ground. Both Kyren Williams and Chris Tyree went over 100 yards individually. Williams had 2 rushing touchdowns to Tyree's 1.
Things weren't perfect out of the backfield by any means. Book had trouble getting the ball to his backs in the passing game, which was a little of each side's fault. There was also the fumble on the opening drive, which directly led to Florida State points. Still, you can't argue with the game as a whole.
The receivers are still the group struggling the most for Notre Dame's offense. Simply, no one has come to replace Chase Claypool the way that he was able to replace Miles Boykin. Without that surefire target, the offense struggles to push the ball vertically.
The tight end unit is really strong, even if they don't always put together dominant performances. Freshman Michael Mayer found the end zone. Across from Mayer, Tommy Tremble had a very quiet game, only grabbing 1 completion for 6 yards.
Javon McKinley seems to have become Book's favorite target, with 5 catches for 107 yards against Florida State. Braden Lenzy is starting to get the hang of things. He had a touchdown grab on 3 catches. Still, you'd like to see Lenzy become more a big-play threat with his speed.
It goes unnoticed a lot, but it's worth pointing out just how dominant this unit blocks. They spring those running backs for huge gains all game long, and that's underappreciated when you look at a box score.
353 rushing yards doesn't happen because you have amazing running backs, though having great running backs is nice. 353 rushing yards happens because an offensive line is in sync, stronger, more aggressive, and hungrier than their opponent.
The offensive line dominated Florida State. They blew the Seminoles off the ball, including Marvin Wilson, who has as much talent as anyone. The holes were almost embarrassingly easy to run through, and the old joke about how the commentator could make it through the hole was actually true for Notre Dame.
There was a scare in the first half when Liam Eichenberg went down with an injury. He had to leave the game and was seen with ice over his eye. To adjust, Aaron Banks kicked out to tackle, and the dominance continued.
Eichenberg would return in the second half, with his left eye so swollen it's hard to believe he had much vision out of it. Looking more like a boxer than a football player, Eichenberg dominated with his eye injury. It was gutsy and dominant, and set the tone for the rest of the offensive line.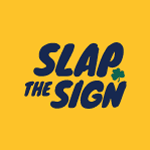 Want your voice heard? Join the Slap The Sign team!
Write for us!